One Telltale Signal Predicts Which

Stocks Are Ready to Soar 190%,

484%, and 495% in 2014
(It's handing investors like you PROFITS as
high as $41,500... in a matter of months!)
In this brief report: Discover how to earn these incredible gains for yourself... starting with
3 stocks that could DOUBLE very soon!
Fellow Investor,
Ian Wyatt here.
I'm writing you today for a very simple reason...
We recently handed our readers a single recommendation that soared nearly 150% - and did it over night.
In less than 24 hours...
$1,000 became almost $2,500...
$5,000 became $12,500...
$10,000 became $22,500...
In the time it takes get a good nights sleep.
And I'm writing not to brag...
But to tell you we've just found 3 stocks that are immediate "BUYs"...
Stocks that are flashing the same tell-tale signal as our overnight rocket-rider...
And are setting up to crank out gains of 190%, 484%, and 495%.
See, my team and I have developed a unique strategy.
One that can hand you gains so big... so sudden... they can transform your portfolio practically overnight.
It involves one tell-tale signal... a little understood blip that sails right past most investors and analysts...
Yet if you know what to look for...
It's capable of producing life-changing gains in a matter of days...
Sometimes in as little as few hours.
We've kept it a closely guarded secret for years... using it for only a select few opportunities... while we developed its predictive power.
But now, I'm not only making this strategy available to you...
I've dedicated an entire investment service – called the 100% Letter – to put this strategy to work for you... and alert you to these quick-moving stocks (the kind that can DOUBLE your money – fast).
Why now?
Well, honestly, because this is one of the greatest markets to invest in these kinds of opportunities... and readers like you demand it!
And we deliver.
"Great pick. I got in when you [recommended] and more than doubled up."
- Ken S.
"I sold half for... roughly 150% gain. Thanks for your insights and look forward to your next recommendation."
- Keith H.
"Thanks to your great advice, I locked in 148%...!"
- Cletha
"Thanks for all your terrific research and stock picking expertise... I enjoy taking the ride."
- Dave G.
"I was delighted to make a $13K Gain....Keep up the good work."
- Peter B
That's what readers had to say about the incredible over-night ride we just posted.
And this wasn't the only stock we rocked.
Recently, our readers had the opportunity to double their money multiple times using this strategy...
Take a look:
115% in 4 months... our Endocyte position DOUBLED again on March 25, 2014.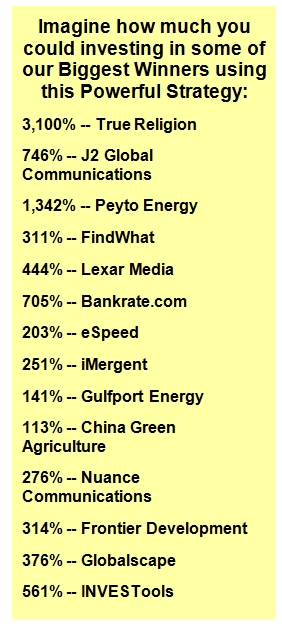 100% in 7 months... shares of Taipan Resources took off this year and our position doubled on February 21, 2014.
109% in 4 months... we recommended high-tech wearable device company Ambarella in front of a quick rally in its shares and the position doubled January 2014.
105% in 8 months…we got in on Diamond Back Energy just before doubling on June 16, 2014.
Now, our readers want more...
Brad H., a doctor from Syracuse, NY, said "Send me more stocks like Endocyte please." And that's exactly what I'm going to deliver...
You see, before these stocks made their big moves, they exhibited the same telltale sign...
A clear buy signal that tipped off our team of analysts they were about to double in value. And it's this signal that is at the heart of the strategy behind the 100% Letter.
And as you're about to discover, it's so powerful... so accurate... it rules every investment decision we make in the 100% Letter.
This is like no other investment service we've ever offered before.
And as the name suggests, this service has one mission, and one mission only – to help you DOUBLE your initial investment in as little as 12 months.
(Starting with the 3 stocks you must own today.)
I realize that's a lofty goal... but it's not outlandish when you consider that the analyst running this service has been helping investors do just that!
His name is Tyler Laundon. He's one of my firm's best and brightest. And his track record speaks for itself... Tyler recently handed our readers gains of 190%, 484%, and 495%.
You see, I founded this firm on the very principle that adding a few of these unique stocks to your portfolio can have an immediate impact on your personal wealth.
I even published a bestselling book on the topic... revealing exactly how I discovered some of the market's greatest success stories – far ahead of Wall Street.
You may have heard about some of our best stock recommendations... True Religion (a gain of 3,100%)... Peyto Energy (a gain of 1,342%)... and Bankrate.com (a gain of 705%)...
So I'm staking my reputation as an investor and the future of my firm on Tyler and this service.
I hope you'll take a moment to consider working with Tyler... look over his track record, find out how this strategy works, and learn about 3 stocks he recently added to the 100% Letter portfolio.
But even if you don't accept this invitation today, I think you'll find what we have to share interesting and very useful.
Because for reasons you're about to discover ahead...
Each of these 3 stocks in the 100% Letter portfolio could take off at any moment!
And if you don't act soon, I can't guarantee you'll be able to get in on these incredible profit opportunities.
So, let's look at each of these stocks starting with what Tyler calls...
"Our next 500% Winner!"
To show you exactly how the strategy behind the 100% Letter works... I have to tell you how Tyler discovered this opportunity.
You see, it's no easy task finding investments that can double in as fast as 12 months... you have to be willing to search for stocks in any sector... with any market cap... anywhere in the world.
And that's exactly what Tyler does... he searches through a vast universe of investments – seeking out only the select few stocks with this common signal... the sure sign these investments could rapidly appreciate in value very soon.
One of his most successful and recent investment recommendations was a small mobile Internet company based in Israel – Allot Communications (NASDAQ: ALLT).
Tyler recommended shares of this little-known company back when no one was investing in this stock. It wasn't even a blip on Wall Street's radar – less than 20,000 shares exchanged hands each day.
One of our readers, Patrick O. from Aberdeen, MD, got in ALLT at $4.85 a share.
He wrote in to tell us: "I had no conception of what Deep Packet Inspection meant... but I convinced my conservative money manager to buy $10,000 worth [of ALLT]."
The timing couldn't have been better...
You see, Deep Packet Inspection is a techie term for describing how mobile devices like smartphones are able to access the web, stream video, and send email. And this was just as Apple and Google started selling millions of new mobile devices including iPhones and Android tablets.
After Tyler recommended Allot, worldwide mobile traffic skyrocketed.
And the biggest names in networking... including Oracle and HP... paid millions for Allot's technology to meet all this new demand for mobile internet access.
The result: Allot's revenues soared and shares shot up. And Patrick's shares were suddenly worth over $25!
"Allot was a blessing after years of disaster - so a huge thanks" - Patrick O.
He quickly sold his entire stake and netted $41,500 in profit – "a five bagger!" as he put it.
$41,500 in Pure Profit Investing in ALLT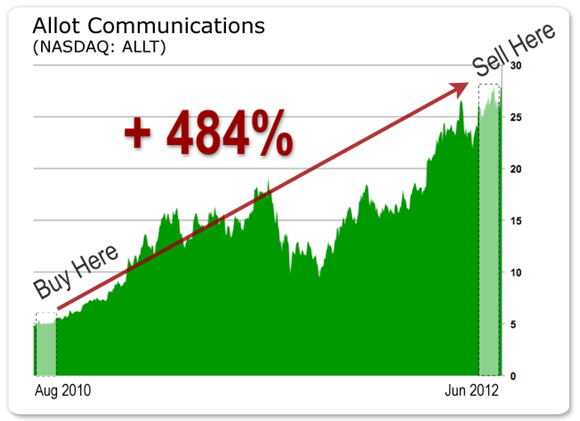 And now Tyler has found what may very well be his next Allot... another potential 5-bagger!
Like Allot Communications, it's relatively unknown to average investors… now.
And like Allot… its upside is massive.
Once investors do begin to take notice, shares should rocket just as impressively.
This company is providing cutting edge products to a demanding and growing audience…
And Tyler's convinced that this one has "winner" written all over it.
This stock is exactly the kind of play savvy investors look for.
It's small enough to have a ton of upside potential…
But not so small that it's completely overlooked by Wall Street.
The company is the developer of some of the most exciting and innovative cloud-computing software around… what I like to call:
The Office in the Cloud…
Because anything you can do in an office, you can do with their software.
For instance, one of their software suites allows users to connect with their cell phone, laptop, tablet, or computer from anywhere that has an internet connection.
It also allows file downloads, sharing of files… even remote printing.
Members can "sit-in" on virtual meetings on any device, while sharing the same documents… essentially allowing anyone – and any computer – the chance to connect. No matter where they are.
It's perfecting the virtual office experience… allowing customers to connect and conduct business on-the-fly, from virtually anywhere.
In addition to these business services, this company is on the cutting edge of one of the most exciting trends in the industry – the Internet of Things (IoT).
IoT essentially allows a variety of devices to link together and communicate with each other – without the need of a person-to-person connection.
According to technology tracker and research firm IDC, the Internet of Things is set to become a $7.1 trillion market – in just the next five years.
That represents a nearly 7-fold increase.
Soon nearly every device, appliance, car, phone, medical device – you name it – will be connected in some way.
And this company's proprietary platform for building and creating the technology needed to keep all these devices interconnected has massive potential.
One of the reasons we like this company is it sells its services on a subscription model – meaning customers pay a monthly fee for access to the software.
And it's definitely working – because customer renewal rates are nearly 80%... an impressive figure, and one of the reasons why revenue has been growing roughly 30% a year.
Making money in the market isn't about jumping onto the next big thing that everyone else is investing in…
That's the road to perdition for many investors.
The "secret" to making money is simple – getting into quality companies before the herd of investors comes charging in…
Which is why now is the perfect time to get into these shares.
The word isn't out yet. It's still relatively unknown to the average investor.
This company's cutting edge "collaboration" software is used by hundreds of thousands of small and medium sized businesses and individuals around the world.
Which is one reason why the stock's been getting a lot of attention from one of the most influential set of investors in the market… institutions.
Stocks loved by large institutional investors can be a great indicator to upside potential…
And the big players on Wall Street are LOVING this company – currently 98% of shares are owned by institutional investors.
All of these facts make this a definite long-term play for any portfolio…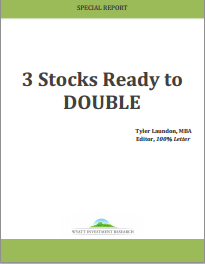 And why Tyler's included this stock as his latest portfolio selection in his special report called 3 Stocks Ready to DOUBLE in 2014.
Inside, you'll discover exactly why this stock could suddenly take off – and easily DOUBLE some time in the months ahead. (Plus two additional stocks, more on this ahead...)
And when you accept this special no-risk invitation to join the 100% Letter today... you'll be able to access this in-depth report – INSTANTLY – for free!
And, remember, this is just one of 3 stocks we're recommending 100% Letter readers add to their portfolios right now...
But before we dive into the next two... I'd like to answer one key question... perhaps it's something you've been asking yourself:
What's our secret?
We don't chase hot stock tips. We don't rely on technical charts or fancy algorithms. And we don't make risky bets trying to time the market (all good ways to lose money).
Instead, we look for companies that share a few common traits – sure signs that tell us they're in store for dramatic growth.
You see, the secret to doubling your money in stocks isn't simply investing in great companies.
There are hundreds of great companies out there...
Like Exxon Mobil, it makes billions dominating the oil industry but its stock is up just 5% over the past five years.
Or Microsoft... at one time it was near monopoly... but its stock is only up 19% over the past five years.
These are great companies – but they DON'T deliver big returns to shareholders.
Now don't misunderstand: I believe there's no surer or safer way to build and preserve your wealth than with a diversified mix of established blue chips and dividend paying stocks...
But if you're looking to DOUBLE, TRIPLE, or in the case of some of Tyler's recent recommendations – QUADRUPLE your money!
Then you'll want to add a few carefully selected stocks that in addition to being great businesses... all share one thing in common – and that's positive catalysts.
A stock catalyst is an event that has a very dramatic impact on the company's future.
It causes a sudden rush of investors into the stock, driving the share price higher – by 100% or more! – in a short period of time... about 6 to 18 months.
Or as you'll discover ahead... with one of our stocks it can happen overnight!
Now, before you pull the trigger on any stock recommended in the 100% Letter... I insist on explaining to you exactly how we find these opportunities and how you can be sure their shares can DOUBLE in the near future.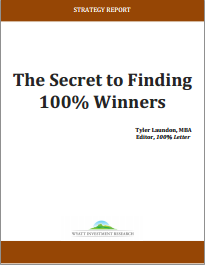 That's why, we've put together a step-by-step action plan for showing you all the ways you can put the powerful investments in the 100% Letter to work for you.
It's called, The Secret to Finding 100% Winners. And in the time it takes you to read this guide, you'll become a sharper, more successful investor, take on less risk, and achieve your financial goals faster than you ever thought possible.
AND – to help you stay on top of all the stocks recommended in the 100% Letter, you'll also receive the 2014 Catalyst Calendar.
This calendar lays out every catalyst on the horizon... every event and scenario that could send each of our stocks soaring in the months ahead.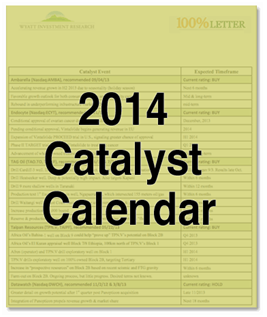 That way, you have everything in front of you... all the important dates concerning our stocks... without having to dig up research reports or log in to the site.
Some catalysts on this calendar have very specific time frames -- oil wells and drug trials for example.
These crucial catalysts will either be successful or unsuccessful within the time frame indicated, so you'll want to pay close attention to those deadlines.
(Of course, we always email you the minute there's important news concerning any of our positions.)
Also on the calendar is a "BUY" or "HOLD" rating assigned to each stock, so you always know where we stand.
Some readers have told me, they print out this calendar and hang it next to their computer.
But don't sit on this... be sure to read over the 2014 Catalyst Calendar and your strategy report, The Secret to Finding 100% Winners, -- and all your special reports, right away – because any of these stocks have multiple catalysts that could spark a rally in their shares – without a moment's notice.
This is why, I firmly believe you should always be investing in stocks recommended in the 100% Letter portfolio...
Whether you have $500 or $5,000 to invest... whether you're retired, saving for retirement, or setting aside money for the people you care about most...
Because it's these catalyst-driven stocks that can quickly appreciate in value (in a matter of months, not years) and offer truly life-changing gains.
(You're risking far more by missing out on these stocks!)
No wonder Richard M. wrote me to say he's adding a few shares of these high-flying stocks to, as he puts it, "three accounts set up for three grandkids... accounts set up for dividend yield and reinvestment."
Now, he's an accountant... no one's more cautious with their money...
And he's allocating a portion of his grandchildren's inheritance to these stocks. (The profit potential is undeniable!)
And he's not alone. Thousands of readers, from all walks of life, are doing the same.
In fact, John M. of Raleigh, NC said:
I'm putting my kid through college on this stock
The stock: one of Tyler's most recent big winners – Susser Holdings (NYSE: SUSS).
On the surface, there's nothing remarkable about Susser... it's a chain of gas stations and convenience stores... except for one thing: its meteoric rise is nothing short of extraordinary.
It grew from a family-owned operation with 2 stores to 535 stores – joining the ranks of the Fortune 500.
Even seemingly simple businesses like Susser can hold enormous investment potential...
Of course, you wouldn't have read about this company in Barron's... and you wouldn't have found it on any Wall Street broker's watchlist.
Yet, Tyler and his readers got in this stock BEFORE it made its big move... helping reader John M. earn big profits of 110% and 80% for his kid's college fund:
"The investments that I've made through the help of your service have helped me save more for my children's college education! I only regret that I didn't start earlier..."
- John M.
Have a look...
Susser DOUBLES in just 13 months!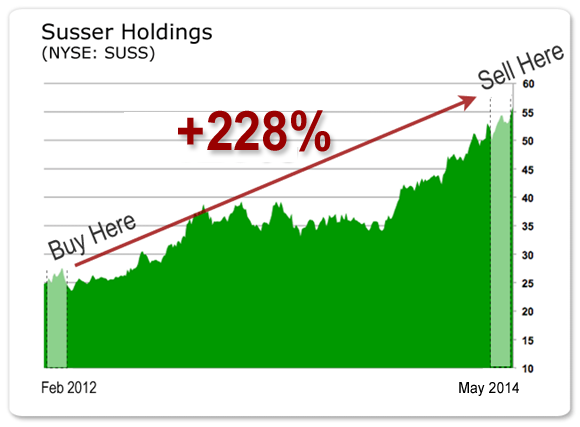 What made shares of Susser rise so quickly?
Well, it all has to do with our strategy of investing only in companies with catalysts that can quickly unlock value and reward shareholders.
In Susser's case, it was growing revenues by over 25% annually on what is traditionally a low margin business.
It was able to do this by tapping into a new market – the rapidly expanding Texas suburbs. In a few months, Susser was a key part of millions of people's lives and earning record-high profits!
Now, Tyler has found another fast-growing business in the U.S. Like Susser, it's tapping into a huge market with a growing customer base.
It's a play on the U.S. housing rebound. And its biggest markets are the fastest growing housing markets in the U.S. We're talking Texas, New York, New Jersey and California!
And it's growing so quickly and generating so much cash, it's buying up smaller competitors and adding their profits to its own bottom line. Already in 2014 it has completed two acquisitions!
Now, like Susser, shares of this company won't stay cheap for long.
In fact, it could take off any day now...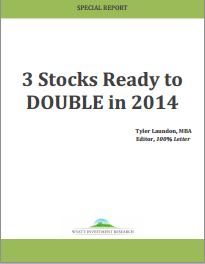 That's why I've included our full research on this company in our brand new special report, 3 Stocks Ready to DOUBLE in 2014.
And since this report is on our secure website, you can read it over ASAP! – find out everything you need to know... and snap up shares very soon!
I'd like to direct your attention to the part of this special offer that guarantees this is a win-win for you and makes all these reports FREE if you choose...
Your special 30-DAY money back guarantee!
If at any point during the next month you find that the 100% Letter isn't right for you, you can simply call my customer service manager to cancel: no hassles, no hard feelings – just a prompt and courteous 100% refund.
And ALL your special reports are yours to keep with my compliments.
I can't wait for you to join us and get started... but before we begin, there's one more investment I must tell you about.
Our Next Stock Double
This is one of those stocks that many investors might find boring.
It's not in a "sexy" industry… it doesn't have a "killer" product… or a "ground-breaking" technology.
Yet, if you can look beyond the surface to find the real story…
You'll see it's packed with the kind of raw profit-power that can make a small fortune.
This company may be the ideal investment at this time.
It's stable. It's growing. And shares are trading at a great price.
Like Tyler's earlier pick, Allot Communications, this is a technology company providing valuable expertise…
However, it's providing this technology to a completely different market.
Profiting from the "hungry crowd"
There's an old business riddle that asks "What would you need most to guarantee a successful hamburger stand?"
While many of the usual answers are good – "A great location" or "A tasty hamburger" or "Great marketing" – there is only one right answer.
The right answer, of course, is "A hungry crowd".
And that's exactly what this company is doing – feeding a crowd starving for their products and services.
See, when the Great Recession walloped the world economies, local governments got hit especially hard.
Tax revenues dried up, but expenses didn't.
That meant they had to cut back on spending. Which meant that improvements and upgrades to everything – from police cars to potholes – were put on hold.
No matter how simple or how essential the improvements were, the lack of tax revenue left local entities starving for funds… and neglecting needed upgrades.
Now that the Great Recession is in the rear view mirror, local governments finally have some breathing room.
Tax revenues are rising… and states, counties and municipalities across the nation are all looking to make some much-needed upgrades.
Many, if not most, public institutions are once again looking to improve the way they do business.
And most of those improvements will come from finally being able to replace and improve old, creaky, inefficient systems…
With new, cost-effective, highly specialized technologies that will stream line the way local governments operate.
This is where this company comes in.
The company's services automate three critical functions for public institutions: financial management and education… courts and justice… and property appraisal and taxes.
For tech-hungry institutions, this company is a one-stop shop for software and hardware installations… staff training solutions… system maintenance contracts… and IT consulting services.
This company is in the right place, at the right time, with the right product to the right audience.
They've found their 'hungry crowd" – and they're making the most of it.
In Q1 revenues rose by 17.6% (to $112.6 million) year-over-year.
Net income rose by 40% (to $11.9 million).
Those are great numbers, and they indicate that business is continuing to accelerate.
However, shares have been off recently. In fact, the numbers show that this stock is significantly oversold.
Which is why we're getting into this stock NOW – not later.
Tyler's been following this stock for some time.
Its subscription-based business model has proven a dependable stream of revenue, and their move to more cloud based services will implementation easier, and can only increase revenues.
And as I mentioned earlier, following the smart money into a stock – before other investors are paying attention – can be a great way to make money.
And the smart money has great interest in this company.
Nearly 90% of shares are owned by institutions.
With a limited number of shares available for the public…
When individual investors finally do get wind of the huge growth potential of this company…
It won't take much to move shares much higher.
This is definitely another long-term play. But now's the time to get in.
After reporting a solid Q1, I expect institutions will be adding shares to take advantage of the relatively low price…
Getting in now, ahead of the Big Boys, is the way to secure the biggest gains.
In fact, Tyler estimates we could see a quick 30% jump by the end of the year…
And as the institutional investors carve out another swath of shares…
And more states and local governments adopt these services to satisfy their own municipal hunger for technology…
Shares could double within the next 12 months.
That's why I'd like to get Tyler's report into your hands as soon as possible…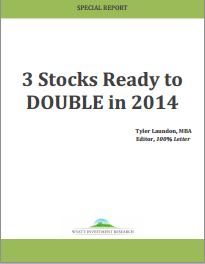 So you look over all the research on these companies and decide for yourself if this stock is right for you.
It's included in your special report, 3 Stocks Ready to DOUBLE in 2014.
Inside, you'll get a full analysis of this little-known company (and the two other stocks I mentioned earlier)...
And I'd like to give you access to this in-depth special report – INSTANTLY.
All you have to get it – is accept this no-risk invitation to join the 100% Letter today!
So let's quickly review everything you'll receive today when you join the 100% Letter...
You'll be able to log in to the subscribers-only website... look over the 100% Letter portfolio... and instantly access your special report that reveals the full details of the 3 carefully selected stocks I mentioned earlier. You'll get their names, ticker symbols, and discover all the specific catalysts that could get their shares moving right away:
Your Special Report #1:
3 Stocks Ready to DOUBLE in 2014 – (a $99 value, YOURS FREE!)
Stock #1 – This cloud-based software company is small enough to offer a ton of upside potential… yet big enough to really grab Wall Street's attention. It's the perfect 1-2 punch. Plus, revenue's up 35% – with more to come. Which is why I'm telling readers to "buy it now!"
Stock #2 – The U.S. housing play that is gobbling up the competition and cashing in on the booming recovery in New York, New Jersey, Texas and California. Not only could shares double as growth expands in 2014 – this company is becoming an attractive acquisition target too.
Stock #3 – This is the kind of stock I dream about – a stable company… growing at a steady rate… and trading at a great price. It's an IT service provider to state and local agencies… and there are five major catalysts primed to send shares higher, faster.
And you'll also get Tyler's two investment guides that give you all the ins and outs of his strategy and a timeline of which stocks are in store for triple-digit gains:
The Secret to Finding 100% Winners – (a $29.95 value, YOURS FREE!)
Our step-by-step guide for showing you all the ways you can put the powerful investments in the 100% Letter to work for you. Including how to best allocate your portfolio so you can capture these big gains – with reduced risk.
2014 Catalyst Calendar – (a $29.95 value, YOURS FREE!)
This handy calendar lays out every catalyst on the horizon... every event and scenario (and important date) that could send each of our stocks soaring in the months ahead.
Then, every other week, you'll receive the latest 100% Letter issue via email.
Each issue reveals a new investment opportunity – handpicked and thoroughly researched – that's poised to DOUBLE sometime in the next 12 months.
You'll always receive the full rationale behind every stock recommendation in the 100% Letter... including any potential risks and every catalyst that could send its shares soaring – so you'll have everything you need to make your own investment decisions.
And along the way, you'll also receive urgent alerts on current portfolio holdings, so you always have our latest research and know exactly where we stand.
Plus, you'll also receive:
The most recent issue of the 100% Letter (published June 25th) that reveals all the details of another brand new stock for doubling your money.


26 new issues of the 100% Letter containing our latest research, chart analysis and updates on portfolio holdings. Every issue explains the full rationale behind our every move... and includes discussions on stock price movements, stop losses and upcoming events – so you'll have everything you need to make sound investment decisions.


Clear and concise CATALYST-driven investment ideas – all of our research revolves around this proven investment strategy, which helps to boost returns while lowering risk. We tell you exactly what catalysts to be on the lookout for, how they could move each of our stocks, when they could occur and why they are so important. We outline multiple ways to win, so you have the highest chance of investment success possible.


Two opportunities to DOUBLE your money each month – you'll receive two official investment recommendations each month... these include new ideas as well as ultra-timely alerts to add exposure to stocks under current coverage. We give you all the details so you don't have to do the work. Of course, we always disclose any and all risks associated with every recommendation so you are completely informed.


Email alerts sent to your inbox the minute there's breaking news concerning a 100% Letter stock – so you'll always know exactly what's happening with every stock we recommend and what, if any, action we recommend taking.


Fully transparent portfolio where you'll be able to see every transaction, cost basis, and trade information. There's no smoke and mirrors here – all numbers are front and center. This is a great tool for monitoring your own performance right alongside us.


Access to the 100% Letter subscribers-only website, where you can read over our entire issue archive and special reports library.


LIVE customer service during regular business hours with our customer service experts who are ready to help you with all your subscription needs.


FULL Money-Back Satisfaction Guarantee – if at any point during the next 30 days you aren't completely satisfied, you can call and receive a full refund... no questions asked.

PLUS – when you respond today, you'll receive this BONUS report, FREE!
In addition to all the benefits of 100% Letter outlined above – including the full details of the 3 stocks you must own today – you'll also receive this bonus report: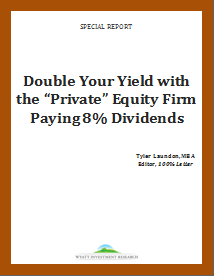 Double Your Yield with the "Private" Equity Firm Paying 8% Dividends – (a $49.95 value, YOURS FREE!)
Inside, you'll discover a new investment... previously available only to the super wealthy... now OPEN to individual investors.
This unique firm gives you access to highly profitable deals typically reserved only for multi-millionaires and Wall Street Insiders.
And along the way, you'll reap the profits in the form of big, 8% dividends.
Add it up and that's a bundle of reports (valued at over $200)... and 4 handpicked investments ready to DOUBLE your money in 2014
Plus – you'll receive your action plan the 2014 Catalyst Calendar and your strategy guide The Secret to Finding 100% Winners for how you can safely invest in these stocks, lower your risk, and dramatically grow your money in the months ahead.
Frankly, I've never published a research service like this before. And I sincerely hope you'll join us.
But with so many people hungry for better returns for their money, high end publications and services are charging a premium these days – $500, even $1,000 or more per year!
I want you to be able to enjoy the benefits of these incredible investments that offer real returns for your money... returns that can make a difference in your life.
And I'm not looking to get rich off the backs of hard working men and women looking for solid investment research.
So, If you act right now, you can join the 100% Letter for $499 a year.
That's 26 information-packed issues... plus buy and sell alerts... and 4 special reports designed to help you start profiting right away.
And remember, this offer is completely risk-free and comes with...
Our FULL MONEY-BACK GUARANTEE that makes it possible for you to join 100% Letter today and get a full refund if you decide it's not for you.
If at any point during the next month you decided that the 100% Letter isn't for you, you can simply call my customer service manager to cancel and receive a prompt and courteous refund.
And you'll still find out all the details of the 3 fast-moving stocks that are set to take off very soon... including their names and ticker symbols... and all the special reports are yours to keep with my compliments.
Of course, this kind of guarantee makes it possible to get everything we have to offer and pay nothing...
And that's okay. Because that's just how confident I am in what we have to offer you!
I think once you see the life-changing returns my readers are positioned to earn in the coming months... and why they're about to soar... you'll decide to join us for the long haul. (And if not, no hard feelings.)
I urge you to click the link below... accept this special invitation to the 100% Letter and read over all your special reports... because there may never be an easier or better time to profit than with these stocks could DOUBLE very soon!
Sincerely,

Ian Wyatt
Chief Investment Strategist
Wyatt Investment Research

P.S. Our tell-tale signal does the work – all you have to do is collect the money! It let us deliver to our readers a bona fide rocket rider – picking up 148% in a matter of hours. NOW – we've added 3 new stocks to the 100% Letter portfolio – and our signal is flashing "all speed ahead" – these could take off at any moment! So, please – if you're interested, I really would prefer that you have a chance to get in these companies before their shares move any higher. As I said, if you decide the 100% Letter is not right for you, you can cancel any time in your first 30 days... get all of your money back... and all 4 special reports are yours to keep! Remember, this offer expires very soon.
* Investing in stocks carries certain risks for loss just as much as it presents opportunities for rewards. While each of the stocks in this new investment report has been thoroughly researched by professional analysts, investors are advised to perform their own research and due diligence before investing. Future returns claims made in this promotion are based on calculations and evaluations made to the best of the ability of 100% Letter research analysts, however they CANNOT be guaranteed and should not be considered as such.