Private Equity Firm Goes Public -

pays out big 8% dividends!
A new investment fund previously available only to the super-wealthy, is now OPEN to individual investors.
Whether you have $18 or $1,800 to invest – you can easily get in today and collect big dividends...
Fellow Investor,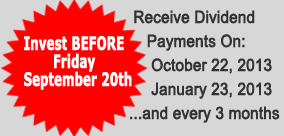 Out in a leafy hamlet of "old money" Connecticut... down the street from the world's biggest and wealthiest private equity firms... is the headquarters of a small band of renegade investors bucking the blue-blood establishment.

They're turning the tables on their closed-door neighbors – private equity firms that cater only to trustfunders and billionaires – by making their wildly successful firm open to the public.

Now, any investor, no matter their net worth or portfolio size, can earn big cash payouts from highly profitable deals once available only to the incredibly well-off.

I'm talking about big money transactions... venture capital... acquisitions... mergers... leveraged buyouts... the bread-and-butter of the private equity industry – are now all accessible to you with this private equity firm gone public!

It's cranking out cash from blockbuster deals and rewarding investors like you with the spoils – in the form of massive dividends...

James Schreiber needed a steady stream of income during these zero interest rate times and got it when his dividend check of $1,109.52.


Mary Turner watched her account swell with new money when she received 2 dividend payouts in the span of just 3 months totaling $1,485.36.


Gerald R. Santos collected a whopping $4,260 in dividends last year alone! He continues to bank $1,080 every 90 days.

Now I'll understand if you're a bit skeptical... you're right to be... after all, these are some impressive dividends.

And I'll admit, you won't read about this unique firm or its big dividends in The Wall Street Journal... or see its executives exposed in a splashy CNBC segment (they prefer to stay under the radar)... but a select few individual investors are getting in (and securing this income stream) every day.

And joining them is easy!

You don't need to be a member of the Yale Club or have a Wall Street "connection" to invest...

As I mentioned a minute ago, this private equity firm is open to the public - meaning it's listed on the New York Stock Exchange. So you can snap up shares and position yourself to earn substantial capital gains and generous 10.3% dividends right now.

Frankly, I don't know of any other investment that's so effectively leveling the playing field for the self-directed investor.

Because this little-known firm allows you to get a piece of unique and private deals most investors never get a chance to even hear about. And it's making a fortune for its shareholders...
When the labor market was hit by a downturn, the firm acquired a business that provided industrial staffing services in 29 states. Then, it turned around and sold the company at the amazing valuation of 8.2x earnings... earning an enormous profit of $89 million!

The firm bought a California-based company that manufactures high-performance coatings for premium eyewear. Two years later it sold this tech operation at a whopping $39 million profit!

The managers running this firm bought all of these companies when they were cheap. And they typically sell when prospective buyers are willing to pay a premium.

And they are able to do this year in and year out... because they're always on the hunt for next the deal.

And that's the great thing about this firm. You're not investing in a single company with a single product.

Instead, you're participating in sophisticated deals involving high-growth businesses that yield tremendous cash payouts.

And the kicker is... because this firm is open to public, it's regulated by the SEC and subject to securities laws uniquely designed to benefit shareholders.

The best one: it must pay out the bulk of the cash generated from these lucrative deals to its shareholders - investors like you - in the form of dividends.

And unlike closed-door private equity firms, there's no chicanery or "fuzzy math" here... every cent from every deal is accounted for.

The end result is you always know exactly what's happening with your investment and how much income you can expect to make over time.

In fact, this firm's commitment to generating cash and consistently paying dividends is detailed in plain sight right on their web page.

This clear, straightforward approach is refreshing in an era where it's all too common for crooked money managers (Goldman Sachs, MF Global, Galleon Group... just to name a few) to pull the wool over the eyes of investors.

Plus, in addition to open-book transparency, this firm has distinct advantages compared its private counterparts. Have a look...


As you can see, this firm doesn't live or die by the fees it earns, like the gougers on Wall Street. It makes its money the old fashioned way – by making successful investments that generate reliable returns for its investors.

You see, insiders and managers hold huge stakes in the firm and, as shareholders, they're compensated in dividends. Their sole goal is to generate as much cash as possible! Meaning their interests are aligned with yours.

And that's what makes this such a compelling investment right now and for years to come.

Because this firm has 8 lucrative deals in the works... The kind of highly profitable deals I mentioned earlier... that allow it to pay out tens of millions of dollars to investors like you in the form of dividends.

And that's why I'm writing you today: So you can get your share of these massive dividends payouts!

Whether you're looking to generate income in retirement... pad your portfolio with new money... or earn some extra cash for a vacation to Bermuda... this special "private" equity firm has proven to pay out consistent and sizable dividends...

Since going public, this firm has NEVER decreased its dividend.

Not even in 2008 and 2009 when many dividend payers were slashing theirs.

In fact, this firm has a documented history of RAISING its dividend.

And while it has a generous yield... maybe you're asking yourself... how exactly can this firm be so successful at rewarding its shareholders and still remain an honest, open enterprise?

Well, where private equity firms are leveraged to the hilt using junk as collateral and risking billions of their clients' money in undisclosed, backroom deals... this public firm keeps things simple.

They don't make risky bets... and they don't have giants debts that could be called back at anytime... or even hundreds of investments to track...

They're a small operation with one office and a handful of hardworking employees. And they own just a few high-growth investments at a time... investments in medium-sized businesses with proven management teams and tremendous growth potential.

Feel-good, AMERICAN businesses with innovative products, growing workforces, and a healthy bottom-line.
And it's this dedication to investing in these rapidly growing U.S. businesses where YOUR dividends come in...

8 deals valued at over $1 BILLION!

Right now this firm owns 8 cash-cranking companies – investments that could yield enormous profits in the months and years ahead (more on this ahead).

But these companies didn't always have such big cash flows...

You see, this firm specializes in acquiring high-growth companies at rock bottom prices. Then, helps to grow each individual business by expanding their operations quickly. For example: Where one acquisition might need capital to open a new factory, another may need to restructure debt and cut costs. Whatever the need, this firm has the resources to help both.

And the potential for further growth is always there (otherwise they wouldn't acquire the company). And this firm's sole goal is to grow these companies, so they can generate massive amounts of cash – to be distributed to as dividends to shareholders – right now and for years to come.

Yes, the end goal is to sell the companies it buys at a profit… but not before this special "private" equity firm can increase its value as much as possible.

Now, I'm not talking about company flipping here... There's no way to gimmick sustainable growth.

This firm's management acquires companies with existing cash flows and well-positioned products that are in high demand and occupy a profitable niche – then gives them the tools and infrastructure to necessary to ensure decades of success.

You could think of this private equity firm gone public as an incubator for America's next generation of successful companies.

And along the way, they're paying you big, fat dividends...

This firm gains an average of 65% on every investment!

Since going public, this firm gained over $500 million from acquiring and selling high growth U.S. companies. Companies including...

A manufacturer of rifles and hunting optics... sold for a gain of 115%!

A maker of industrial food processors and cookers... sold for a gain of 58%!

A high-tech coatings manufacturer... sold for a gain of 88%!

An industrial staffing firm... sold for a gain of 65%!

You'll notice a theme when glancing at this list... These are all industrial operations that are involved in making REAL products – right here in the good ol' U.S.A.

No banks that just move money around or whizz-bang social media companies here... this special firm invests solely in American manufacturers.

And it uses its deep pockets and management expertise to expand these businesses, create American jobs, and keep all those new profits here. (Now this is an investment I'm sure you can get behind!)

So which high growth U.S. company will this firm spin-off next? And how much money can you make?

Well, currently, it owns 8 companies with healthy cash flows and tremendous upside potential. Let's have a look at the line-up:

A high-tech operation that makes wafer thin circuit boards – based not in China, but in the Midwest!

A California maker of recreational and military-grade outdoor equipment including gloves, backpacks, and hydration systems.

A manufacturer of high-end suspension units for off-road vehicles including ATVs and snowmobiles.

A New York technology company that develops products for the oil, semiconductor, medical, and transportation industries – it counts several Fortune 500 members as its customers.

A maker of popular baby products that's rapidly growing and gobbling up market share.

A security company that makes premium home and gun safes - on the surface, a boring investment, but this business increased sales by 27% last year.

A Florida company that manufacturers top-of-the-line therapeutic supports and beds for the medical industry.

A low-cost furniture company that produces and sells sofas, sectionals, and recliners.
Clearly, this is a diversified portfolio of companies. Any run-of-the-mill holding company would be happy to hold on to these businesses for decades. But not this firm.

It won't hold these companies forever.
This firm's goal is to reward shareholders (you!) with dividends.

And the only way to do that is to increase the value of these acquisitions... funnel their cash flows and earnings to you... then, when the time is right, sell the newly improved company at a tidy profit.

And when you consider this firm's track record of acquiring and selling businesses - the 65% average return I mentioned earlier – its current holdings could be worth a over $1 billion.

That's a big pool of cash. And it's what this firm is doing with this cash that's important here...

Because they don't just make profits and set them aside as a safety net. They use the profits to hunt for the next big acquisition, which in turn will secure cash flow for shareholders.

The more cash-cranking companies they acquire, the more money (dividends) that's coming to you.

You see, as a shareholder, you're considered a partner in the firm. You'll even be sent the official paperwork when you invest.

You're entitled to a big piece of all the businesses this special "private" equity firm owns - their free cash flows are paid out directly to you.

And as the successes and profits pile up year after year... this firm acquires bigger and companies... handing their shareholders an even greater stream of income.

For you, all this adds up to one thing...

Years of consistently high dividends

The way I see it, there's 2 ways you can put an investment in this firm to use right away:
1. If you want the income now, I recommend you simply buy shares, take the big cash distributions as they are paid out, and enjoy watching those big 8% dividends roll in.

2. Or if income isn't your primary concern, and you plan to hold the stock for years, I'd recommend enrolling the shares in a DRIP program through your broker. It's easy to do and completely free. Once you're enrolled, all dividend payments will be reinvested in new shares of stock, commission free. The beauty of this is that as time goes on your ownership interest increases, so your share of dividends will go up as well - setting you up for a big gain down the road, even if the stock trades flat!
Whichever way you choose... an investment in this firm today is giving you access to a stream of new money... a source of gains and dividends that were previously available only to well-to-do investors.

I can't wait to give you this firm's name, its ticker symbol on the NYSE, and everything you need to know about all its cash-cranking acquisitions, but out of respect for our subscribers. I have to give all this to you in the form of a brand-new special report.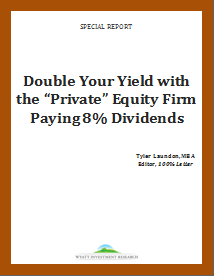 It's called Double Your Yield with the "Private" Equity Firm Paying 8% Dividends.
And I'd like to send you a copy of this special report for FREE – so you can read over all the details for yourself.

Inside, you'll discover all my latest research on this firm, including my price targets and even a helpful tax tip for getting the most of your dividends.

To access this special report INSTANTLY today, all I ask is that you give our unique research service a try...

Please allow me a proper introduction

My name is Tyler Laundon. And I've been leading a dedicated group of investors here at Wyatt Investment Research to some incredible profits at our newest and most ambitious service, the 100% Letter...
You may have heard about some of our best picks on the radio or read about them in Forbes…
Either way, our team's systematic approach to investing is helping readers every day like Patrick O. from Aberdeen, MD.
He invested early in one of our most successful investment recommendations – a small mobile Internet company based in Israel – Allot Communications (NASDAQ: ALLT).
Patrick got in at $4.85 a share. And wrote in to tell us: "I had no conception of what Deep Packet Inspection meant… but I convinced my conservative money manager to buy $10,000 worth [of ALLT]."
The timing couldn't have been better…
You see, Deep Packet Inspection is a techie term for describing how mobile devices like smartphones are able to access the web, stream video, and send email. And this was just as Apple and Google started selling millions of new mobile devices including iPhones and Android tablets.
After we recommended Allot, worldwide mobile traffic skyrocketed.
And the biggest names in networking… including Oracle and HP… paid millions for Allot's technology to meet all this new demand for mobile internet access.
The result: Allot's revenues soared and shares shot up. And Patrick's shares were suddenly worth over $25!
"Allot was a blessing after years of disaster –
so a huge thanks"
– Patrick O., May 17, 2013
He quickly sold his entire stake and netted $41,500 in profit – "a five bagger!" as he put it.
$41,500 in Pure Profit Investing in ALLT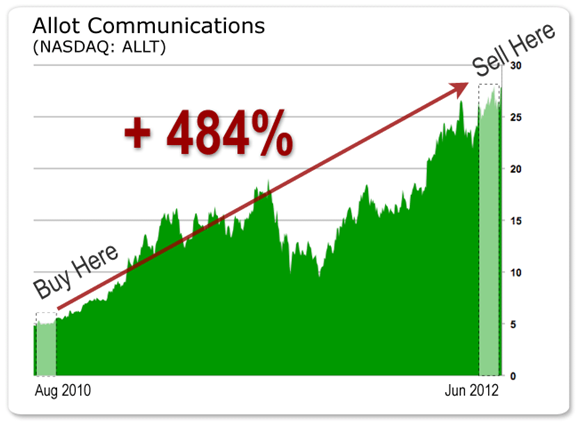 But it's not the only time we've helped our readers grab huge profits... there's also Africa Oil.
"How lucky am I to have bought some Africa Oil!... I am so impressed by your dedication and stable approach..."
– Elizabeth Moore, Pensacola, FL
Back in 2011, investors were captivated by the potential of natural gas and shale oil in the U.S… ignoring these big reserves of easy-to-reach oil in Africa.
Which was a major oversight… as our research showed one company was getting closer and closer to hitting its first gusher...
We recommended Africa Oil (CVE: AOI) at just $1.85 a share. Just months before it became the first company in history to strike oil in Kenya – sending its shares up to over $11! Have a look…
Every $5,000 invested in AOI
turns into $28,130!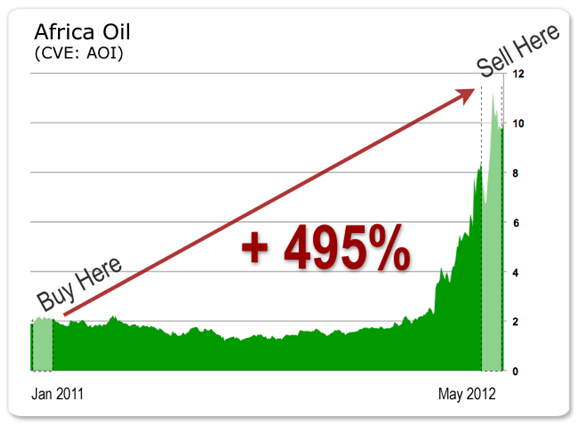 Gains like these aren't isolated events. Thousands of our readers, from all walks of life, are profiting from our research.
In fact, John M. of Raleigh, NC said: "I'm putting my kid through college on this stock"
The stock: one of our most recent big winners – Susser Holdings (NYSE: SUSS).
On the surface, there's nothing remarkable about Susser… it's a chain of gas stations and convenience stores… except for one thing: its meteoric rise is nothing short of extraordinary.
It grew from a family-owned operation with 2 stores to 535 stores – joining the ranks of the Fortune 500.
Even seemingly simple businesses like Susser can be hold enormous investment potential…
Of course, you wouldn't have read about this company in Barron's… and you wouldn't have found it on any Wall Street broker's watchlist.
Yet, we got in this stock BEFORE it made it's big move… helping John M. earn big profits of 110% and 80% for his kid's college fund:
"The investments that I've made through the help of your service have helped me save more for my children's college education! I only regret that I didn't start earlier…"
– John M., May 16th, 2013
Have a look…
Susser DOUBLES in just 13 months!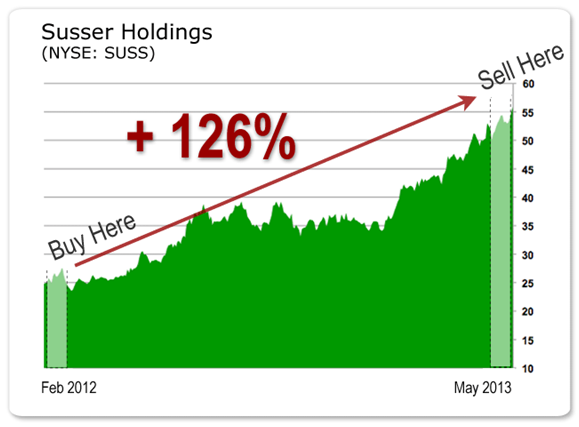 If you haven't guessed by now… this investment service has one mission, and one mission only – to help you DOUBLE your initial investment in as little as 12 months.
And that includes dividends. You see, the unique firm I wrote you to tell you about today pays dividends so big, if you simply reinvested these dividends, you'd already be sitting on a 79% gain!
In fact, just over the past year, my readers took home 4 dividend payments totaling $1.40 a share – meaning a modest $7,000 investment earned $693.56 in dividends.
That's a great stream of income in a time where money markets and bonds are yielding next to nothing.
And today, this firm's earning potential remains as strong as ever. And I'm actively recommending my readers add more shares.
That's why I'd like to send you our latest research report on this opportunity… so you can look over our full analysis and decide for yourself if an investment in this firm is right for you.
All you have to get it – is accept this no-risk invitation to join the 100% Letter today!
How to get your FREE REPORT: Double Your Yield with the "Private" Equity Firm Paying 8% Dividends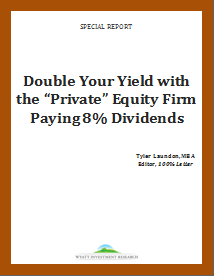 Here's how we'll begin...
When you decide to try the 100% Letter today you'll be able to log in to the subscribers-only website… look over all the investments in our portfolio… and instantly access your brand new report, Double Your Yield with the "Private" Equity Firm Paying 8% Dividends.
Then, every other week, you'll receive the latest 100% Letter issue via email.
Each issue reveals a new investment opportunity – handpicked and thoroughly researched – that's poised to DOUBLE sometime in the next 12 months.
You'll always receive the full rationale behind every stock recommendation in the 100% Letter... including any potential risks and every catalyst that could send its shares soaring – so you'll have everything you need to make your own sound investment decisions.
And along the way, you'll also receive urgent alerts on current portfolio holdings, so you always have our latest research and know exactly where we stand.
Plus, you'll also receive:

26 issues of the 100% Letter containing our latest research, chart analysis and updates on portfolio holdings. These issues explain the full rationale behind our every move… and include discussions on stock price movements, stop losses and upcoming events – so you'll have everything you need to make sound investment decisions.


Clear and concise CATALYST-driven investment ideas – all of our research revolves around this proven investment strategy, which helps to boost returns while lowering risk. We tell you exactly what catalysts to be on the lookout for, how they could move each of our stocks, when they could occur and why they are so important. We outline multiple ways to win, so you have the highest chance of investment success possible.


Two opportunities to DOUBLE your money each month – you'll receive two official investment recommendations each month… these include new ideas as well as ultra-timely alerts to add exposure to stocks under current coverage. We give you all the details so you don't have to do the work. Of course, we always disclose any and all risks associated with every recommendation so you are completely informed.


Email alerts sent to your inbox the minute there's breaking news concerning a 100% Letter stock – so you'll always know exactly what's happening with every stock we recommend and what, if any, action we recommend taking.


Fully transparent portfolio where you'll be able to see every transaction, cost basis, and trade information. There's no smoke and mirrors here – all numbers are front and center. This is a great tool for monitoring your own performance right alongside us.


Access to the 100% Letter subscribers-only website, where you can read over our entire issue archive and special reports library.


LIVE customer service during regular business hours with our customer service experts who are ready to help you with all your subscription needs.


FULL Money-Back Satisfaction Guarantee – if at any point during the next 30 days you aren't completely satisfied, you can call and receive a full refund... no questions asked.

PLUS! – you'll instantly get your special report: Double Your Yield with the "Private" Equity Firm Paying 8% Dividends
So you can get all the details of this unique firm gives you access to highly profitable deals typically reserved only for multi-millionaires and Wall Street insiders – and start collecting big dividends!
AND – When you respond right now and only through this web page, you'll receive 4 BONUS reports, FREE!
In addition to all the benefits above, you'll also receive:
BONUS Report #1:
Double Your Money With The Little-known Company Feeding the World
Inside, you'll get a full analysis of a rapidly-growing company that's gobbling up market share and dominating an entire sector of the agriculture industry.
BONUS Report #2:
The Cash-Cranking U.S. Manufacturer Poised to Double
You'll discover the high-margin business selling consumer products so popular they're flying off the shelves of discount superstores including Walmart. Not only could shares double very soon – it's paying shareholders big, fat dividends (over a 5% yield).
BONUS Report #3:
Untapped Profits: Double Your Money Investing in Africa's Frontier Oil Boom
This report reveals all the details of a driller exploring a massive reserve filled with 9 billion barrels of oil. Like Tyler's Africa Oil recommendation, this stock has the potential to jump 500% without a moment's notice.
And you'll also get our investment guide that gives you all the ins and outs of our strategy that predicts which stocks are in store for triple-digit gains:
BONUS Report #4:
The Secret to Finding 100% Winners
Our step-by-step guide for showing you all the ways you can put the powerful investments in the 100% Letter to work for you. Including how to best allocate your portfolio so you can capture these big gains – with reduced risk.
Add it up and that's 5 special reports… 4 handpicked investments ready to DOUBLE your money.
Frankly, I've never published a research service like this before. And I sincerely hope you'll join us.
But with so many people hungry for better returns for their money, high end publications and services are charging a premium these days – $500, even $1,000 and more per year!
I want you to be able to enjoy the benefits of incredible investments that offer real returns for your money… returns that can make a difference in your life.
And I'm not looking to get rich off the backs of hard working men and women looking for solid investment research.
That's why through this exclusive invitation only, I'm offering you a massive discount…
If you act right now, you can join the 100% Letter for only $199 a year… that's a full 60% OFF our regular subscription of $499!
That's 26 information-packed issues... plus buy and sell alerts... and 5 special reports designed to help you start profiting right away – all for about the cost of a good cup of coffee per week.
And remember, this offer is completely risk-free and comes with…
Our FULL MONEY-BACK GUARANTEE that makes it possible for you to join 100% Letter today and get a full refund if you decide it's not for you.
If at any point during the next month you decided that the 100% Letter isn't for you, you can simply call my customer service manager to cancel and receive a prompt and courteous refund.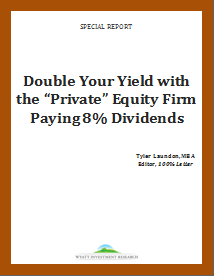 And you'll still find out all the details of this unique firm siphoning cash from blockbuster Wall Street deals to individual investors in the form big 8% dividends… including its name and ticker symbol… and all the special reports are yours to keep with my compliments.
Of course, this kind of guarantee makes it possible to get everything we have to offer and pay nothing...
And that's okay. Because that's just how confident I am in what we have to offer you!
I think once you see the life-changing returns my readers are positioned to earn in the coming months… and why they're about to soar… you'll decide to join us for long haul. (And if not, no hard feelings.)
I urge you to click the link below... accept this special invitation to the 100% Letter and read over all your special reports... because there may never be an easier or better time to profit than with these investments that could DOUBLE your money very soon – starting with the "private" equity firm paying out big 8% dividends.
Click here to START NOW
and receive 60% OFF!

Good Investing,


Tyler Laundon
Lead Research Analyst
100% Letter
P.S Remember, when you subscribe to 100% Letter today and only through this invitation, you'll receive an immediate discount of 60% OFF! I urge you to click here and secure this special discount right now.

P.P.S. PLUS! ACT NOW and Get 4 Bonus Reports, FREE!

This special "private" equity firm isn't the only investment secret we've found. You're also getting 3 more investment opportunities revealed in your special reports: The Cash-Cranking U.S. Manufacturer Poised to Double, Double Your Money With The Little-known Company Feeding the World, and Untapped Profits: Double Your Money Investing in Africa's Frontier Oil Boom. PLUS – your strategy report that details all the best ways to put these investments to work for you right away: The Secret to Finding 100% Winners.
So, please – if you're interested, I really would prefer that you have a chance to get in these companies before their shares move any higher. As I said, if you decide the 100% Letter is not right for you, you can cancel any time in your first 30 days… get all of your money back… and all these special reports are yours to keep! But you must act now.


* Investing in stocks carries certain risks for loss just as much as it presents opportunities for rewards. While each of the stocks in this new investment report has been thoroughly researched by professional analysts, investors are advised to perform their own research and due diligence before investing. Future returns claims made in this promotion are based on calculations and evaluations made to the best of the ability of 100% Letter research analysts, however they CANNOT be guaranteed and should not be considered as such.